IT Services with Chinese Characteristics
News of Alibaba's cloud investment and a recent software park tour indicate that China's IT services industry is evolving in its own way.
Alibaba Invades Silicon Valley
The "Amazon of China" is following Amazon's playbook yet again with their investment in the cloud. Aliyun, Alibaba's technology arm, already operates five Chinese data centers supporting 1.4 million customers. They cite high performance specs, such as the ability to process 80,000 orders per second during peak shopping season, and a successful defense against the largest recorded DDoS attack in China, which lasted 14 hours with a peak onslaught of 453.8 gigabytes per second.
Even with this performance, competing on Amazon's home turf will be no small task. Aliyun will initially pursue the growing number of US-bound Chinese companies. "We know well what Chinese clients need," explains Sicheng Yu, Aliyun's head of international; "now it's time for us to learn what U.S. clients need."
A Recent IT Industry Tour in Beijing
Nope, China is still not "the next India."
In spite of the hype that surfaces every few years, China is not becoming "the next India." India's unique path cannot be replicated. Yet, a recent tour of Beijing's Zhongguancun Software Park, where many new large buildings are bustling with bright-eyed, Starbucks-fuled youth, reveals that something is going on in China.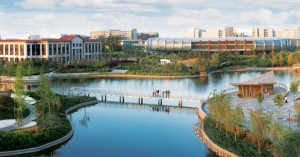 A few buildings housed familiar foreign brands (Oracle, IBM and Tata are there), though many belong to large Chinese IT service providers such as Neusoft, Pactera, and Beyondsoft.
If China is not the next India, what are all of these young workers doing?

Asian Roots; Global Ambition – The vast majority of China's IT outsourcing companies still serve Chinese, Japanese, and other East Asian customers – not insignificant markets. However, Chinese firms are expanding globally (1) by servicing Chinese branches of large multinational firms, and (2) by following existing Chinese customers abroad, as Aliyun is doing in the cloud space. The real value of these engagements is in providing a toehold for even deeper expansion.
Narrow Industry & Technology Focus – Chinese IT service providers tend to have deep technical strengths in narrow areas, often related to their legacy. For example, Aliyun was built to support Alibaba's online marketplace. As a result, Chinese firms may be most competitive when servicing discrete projects or components, rather than acting in a broader role as, for example, an IT Service Management (ITSM) provider.
Leveraging Hardware & Manufacturing Enterprise – China's manufacturing dominance has been successfully leveraged by some firms to create software and IT service offerings. For example, Neusoft, China's largest IT service provider, developed an expertise in telemedicine and medical imaging, in part through their role in producing both hardware and software for MRIs. They also opened a Detroit office in 2013 to focus on integrated automotive software.
While Chinese IT service providers cannot yet compete with the largest one-stop global IT shops, for an increasing range of geographies, industries, and service categories, they are providing unique value.